UK Tiles Direct Chosen for Porcelain Tile Installation at Yeomans Nissan Worthing
We were delighted when Dorset-based Kiwi Design once again selected UK Tiles Direct as tiling contractors for a recent extensive refurbishment of Yeomans Nissan car showroom in Worthing, after working with their design team on a similar project in 2015.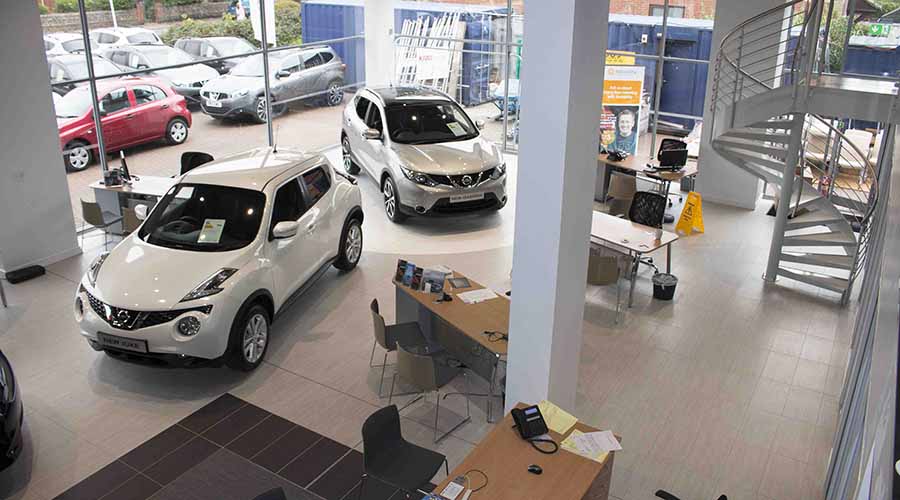 As design and build contractors specialising in commercial premises refurbishments, Kiwi Design were employed to undertake the overhaul of the spacious interior of the Yeomans Nissan showroom, and 330 square metres of floor tiling and wall tiling were required as part of the project.
Porcelain tile installation team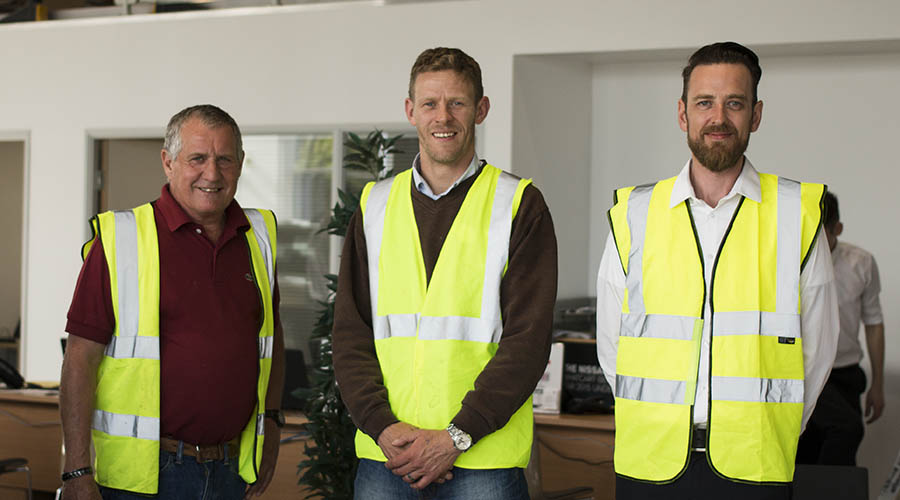 As professional tiling contractors, we knew the size of the project, which included floor preparation and tiling of the showroom, office and customer toilets, would require expertise in all areas – even more so as the showroom was to remain open throughout the refurbishments.
Our team was made up of two professional tilers, a labourer and Kiwi Designs project manager, Andy Curtis. At UK Tiles Direct we are official agents for the Kerakoll range of eco-friendly tile grouts, adhesives and floor preparation products in Dorset, so Mark Jory from Kerakoll also joined the team, to provide technical assistance.
Eco-friendly Kerakoll products
As the showroom was fully functional during the entire time of the refurbishment, we split the porcelain tile installation into two phases, each over five days, to ensure as little disruption as possible. And, we were confident there would be no adverse effects on anyone working within the showroom during the tiling, or any customers, thanks to Kerakoll's eco-friendly, mineral-based floor levelling compounds, preparation products, tile adhesives and grouts.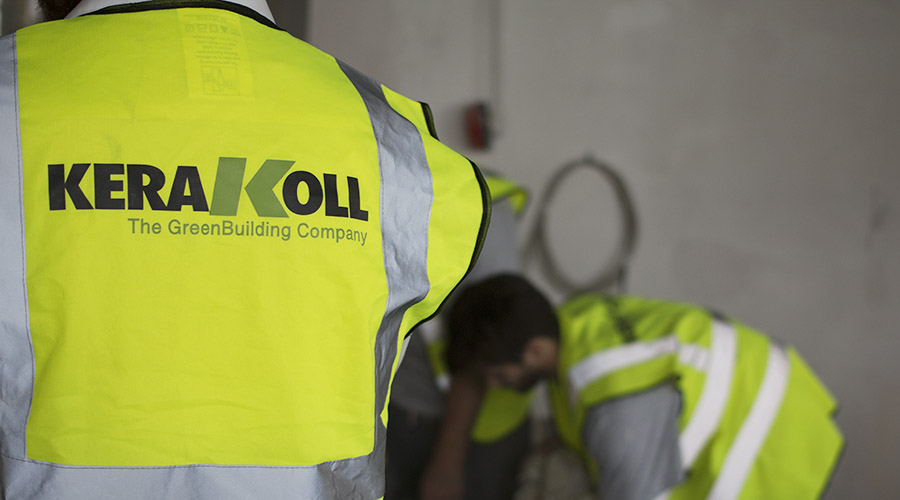 UK Tiles Direct Managing Director, David Burgess, explains: "Kiwi Design and UK Tiles accommodated the continued working of the car showroom by erecting a stud partition, so all works on one side could be carried out without disruption to the day-to-day running of the business. The Kerakoll products were perfect in assisting the tile installation as they are all eco-friendly and carry less emissions that any other alternative products on the market".
Floor preparation and levelling
Before the floor levelling or tiling could begin, there were channels and boxes that needed to be cut into the concrete floors, to allow for new electric and services to be installed. This would have been impossible to do during normal business hours, due to the levels of noise, dust and disturbance. So our team worked through the night, alongside a specialist concrete cutting contractor, to minimise disruption and ensure we stayed on track with the tight schedule we had for completing the refurbishment.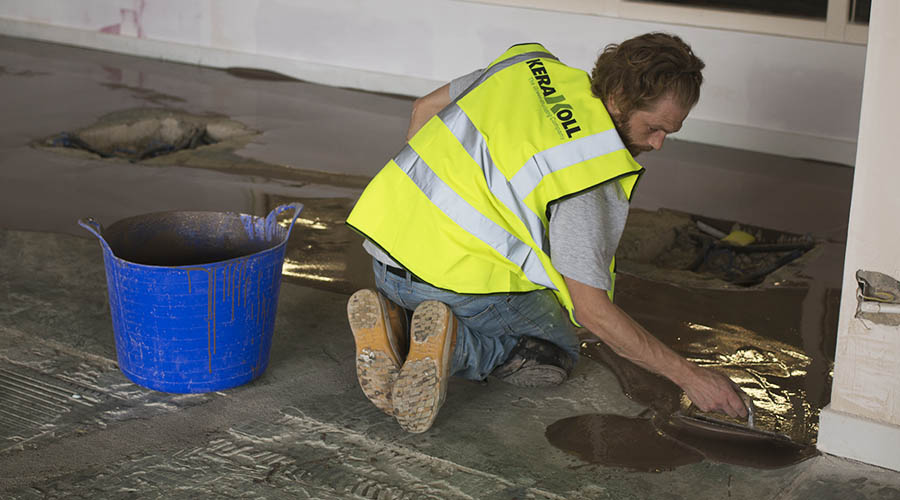 One of the biggest challenges faced by our team came about when we removed the existing tiles, and found the majority of the original adhesive remained on the floor. But with Kerakoll's self-levelling, rapid-hardening compound, designed for the smooth finishing correction of irregular substrates, this was only a minor setback and we were soon back on track.
"When we revealed the floors after removal of the tiles, most of the existing adhesive was left," says David. "We used Kerakoll Keratech R10 self-levelling compound, which is perfect for overcoming the floor condition. The Kerakoll R10 flows fantastically, giving us a lovely flat floor after just three to four hours of drying. After 12 hours of drying, we could start the porcelain tile installation."
During the course of the car showroom refurbishment, over the 330 square metres of porcelain floor tiles and wall tiles were installed by our tiling contractors, the UK Tiles Direct team used 82 25kg bags of Kerakoll self-levelling compound, and 81 25kg bags of Kerakoll Rapid tile adhesive!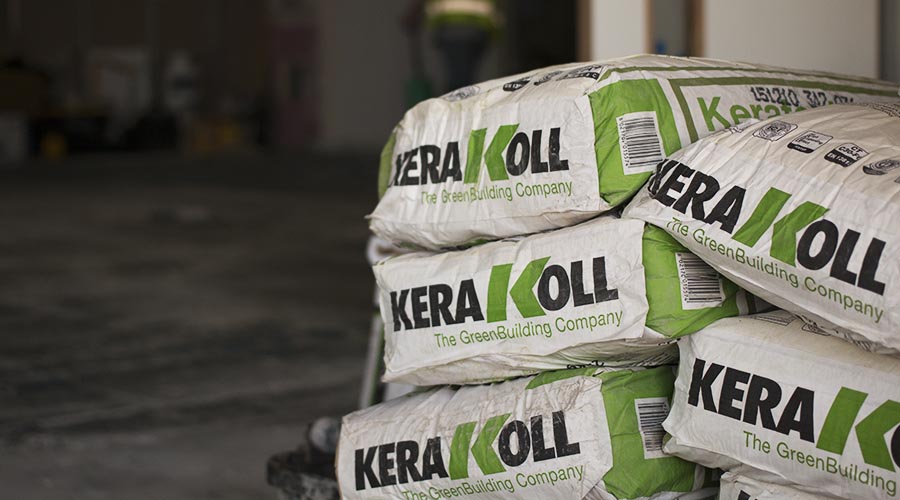 To find out more about our porcelain tile installation, tiling contractor services and the Kerakoll range of floor levelling compounds, adhesives and grouts, contact us. Or, visit our bathroom and tile showroom in Wareham, Dorset.