UK Tiles Direct now Silver Karndean Approved Retailer
We're delighted to announce we've recently been awarded Silver Karndean Approved Retailer Status. Karndean is high-quality and hardwearing vinyl flooring, which offers a fabulous selection of styles and colours, including highly realistic wood and stone effects with stunning textured finishes.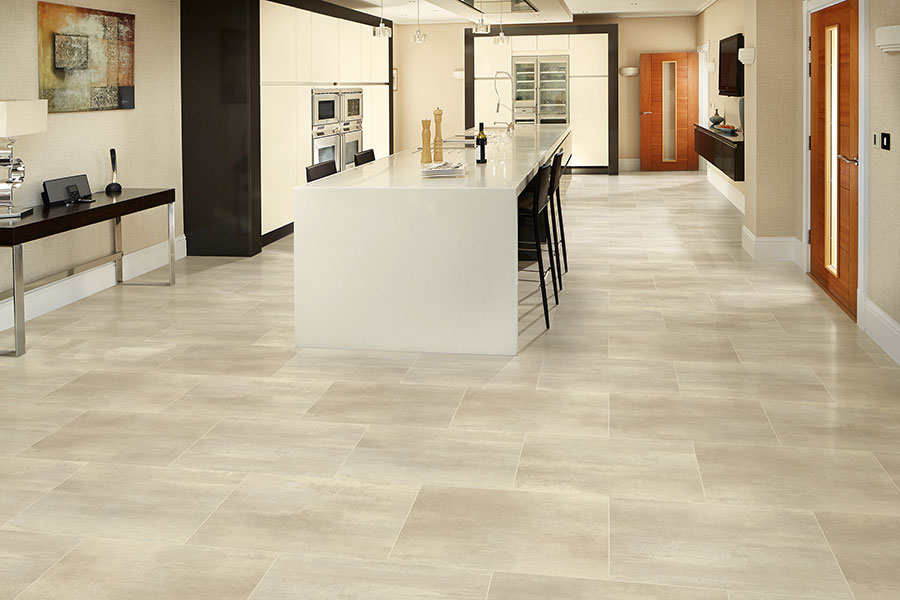 This kitchen features Karndean Opus Terra stone effect vinyl floor tiles
At UK Tiles Direct we've been a Karndean flooring retailer for over a year, offering our customers the wonderful Karndean 'Knight' tile. So we're thrilled to now be able to add even more styles to this innovative flooring collection – with the new 'Opus' vinyl floor tiles already available to view online and in our showroom, and more to come soon.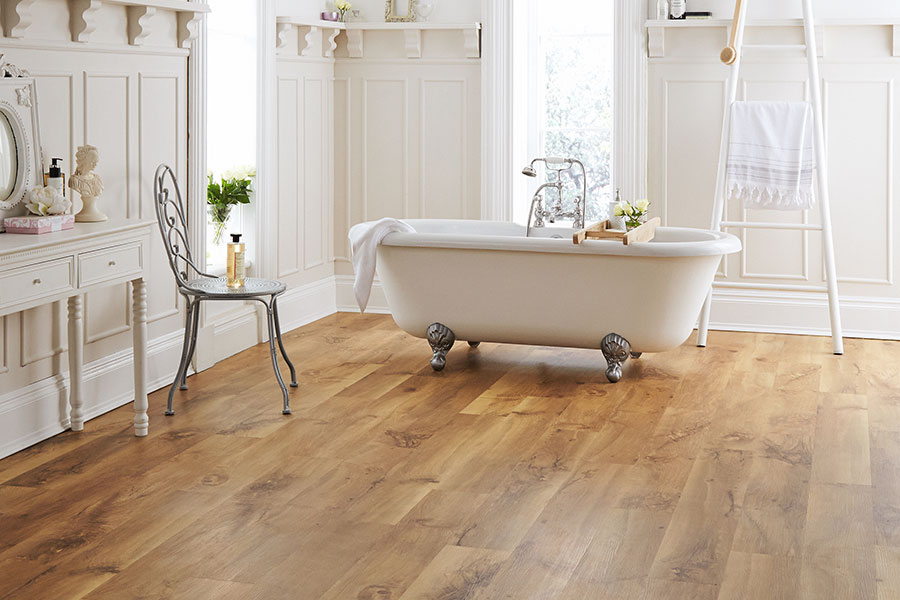 This delightful period bathroom features Karndean Auckland Oak effect luxury vinyl flooring from the Van Gogh collection
To be awarded Karndean Approved Retailer status we have to have a certain number of their luxury vinyl flooring products and branded display stands in our showroom. We also have to demonstrate a high degree of knowledge about Karndean vinyl flooring, alongside excellent customer service. This goes hand-in-hand with our approved installer status, which has seen us complete many projects using Kardean vinyl flooring in the Dorset area.
Karndean luxury vinyl flooring
Karndean vinyl flooring is proving to be a highly popular choice for both domestic and commercial settings, thanks to its outstanding authenticity and durability. The wide range of styles and formats of these luxury vinyl tiles provides a variety of interior design possibilities. Karndean recognises the need for individuality, promoting the concept of stylish, yet easy to create design flooring.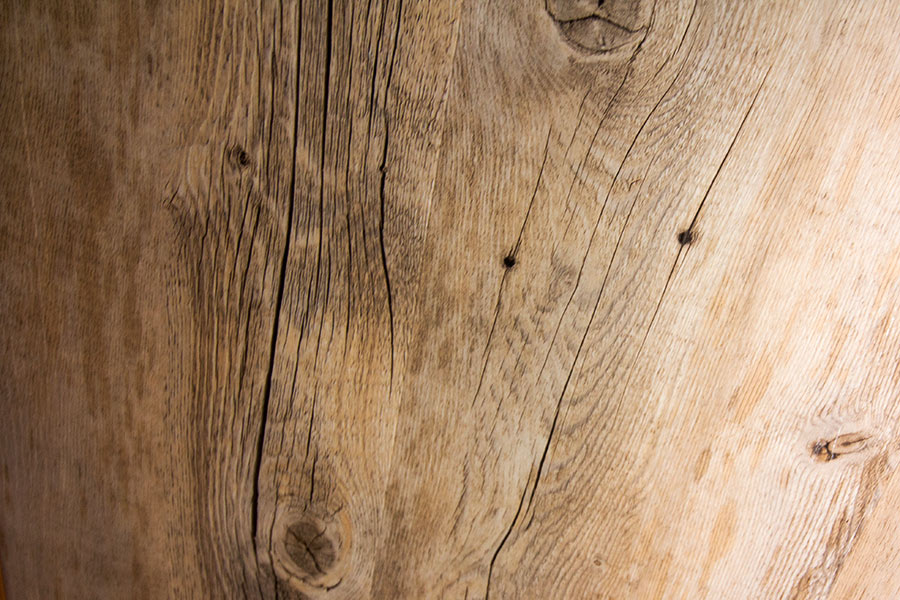 Surface detail replicates the look and feel of wooden planks and stone tiles
Unlike a conventional roll of vinyl, Karndean luxury vinyl tiles come in rectangles for an authentic plank or tile look – you can even add a vinyl strip that looks like grout. Digitally printed, with a high-quality photographic layer set between multiple layers of backing and clear PVC, these tiles make for an exceptionally hardwearing and stunning floor, and can even be used in the bathroom and with underfloor heating. With meticulous attention to detail, each plank is handcrafted to reflect the unique look and texture of real wood and timber, with beautiful knot and grain detailing making the luxury vinyl tiles remarkably realistic.
Viewing the Karndean vinyl flooring collections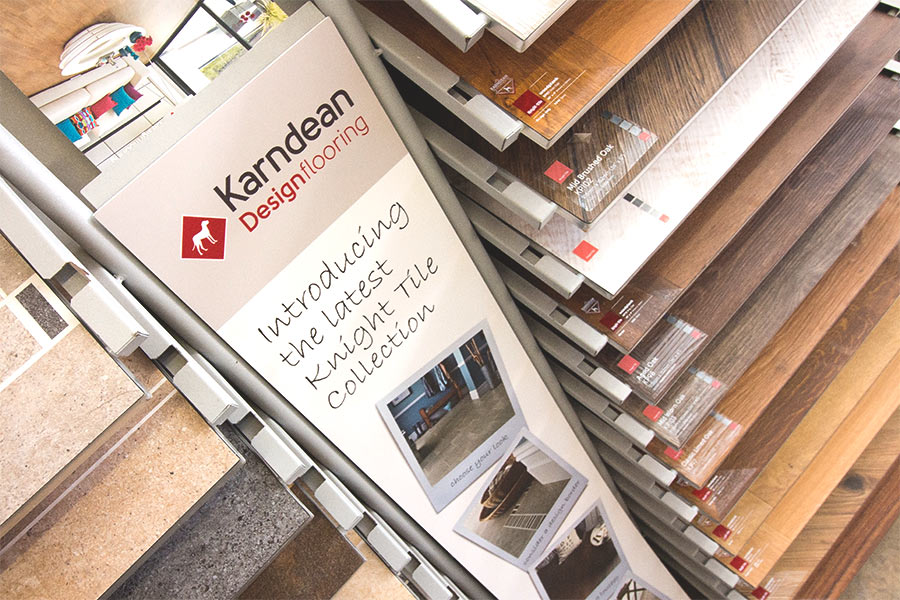 Karndean Opus, Knight Tiles and Van Gogh ranges are displayed at the UK Tiles Direct Showroom in Warham, Dorset
As part of achieving our Karndean Approved Retailer status, we offer fabulous display stands in our showroom, to inspire our customers with the possible designs available with the luxury vinyl tiles. Not just for show, the boards are designed so you can remove them to lay them on the floor, giving you a real idea of what they might look like in your home. We can help you arrange them in different patterns and add a grouting effect so you can create your own unique floor.
The new Karndean Opus vinyl flooring is now available, alongside the Karndean Knight tile, in a gorgeous selection of designs, for creating a sense of stylish simplicity and space. Guaranteed to add sophistication to any interior, The Opus collection has some of the largest plank and tile sizes, offering a fresh and contemporary floor in a range of colours to complement any décor. The wood effect tiles range from charcoal tones of Argen to the rustic shades of Magma, while the stone effects boast everything from the gentle mottled design of pale Luna to the smoky grey hues of the limestone-inspired Fumo.
Visit our large showroom in Wareham, Dorset, where you can see our fabulous displays of Karndean vinyl flooring and gain inspiration for your own design.