Design Ideas and Bathroom Tiles for Stylish Over-bath Showers
When it comes to bathroom design, practicality and function is usually at the top of the list of considerations. But, having a functional bathroom certainly doesn't mean you have to compromise on style.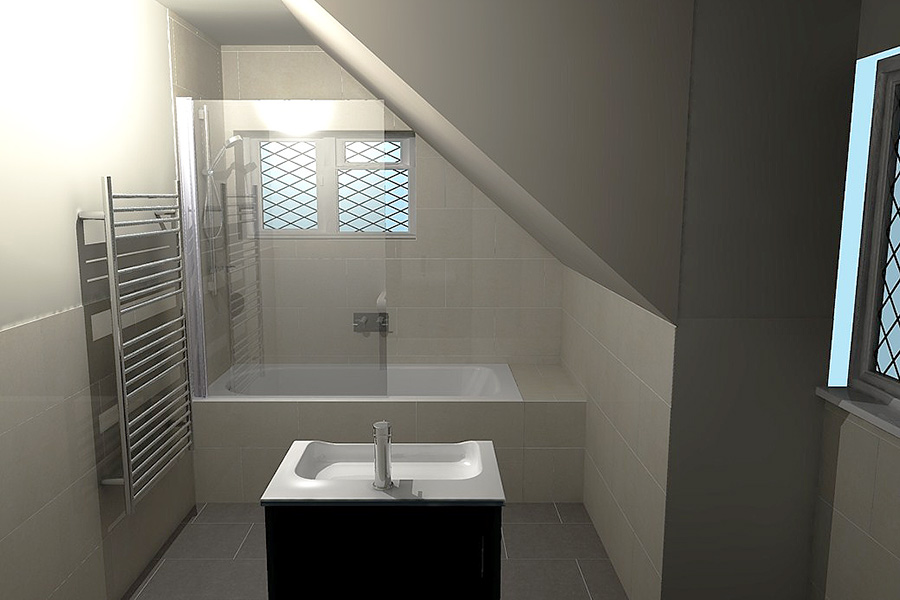 While a separate shower enclosure is often desirable, space doesn't always allow. But with a combination of quality bathroom tiles, fixtures and fittings, you can have an over-bath shower that's both practical and highly stylish. Here we look at some shower ideas to help you incorporate an over-bath shower into a beautiful bathroom design.
Combine modern and traditional bathroom design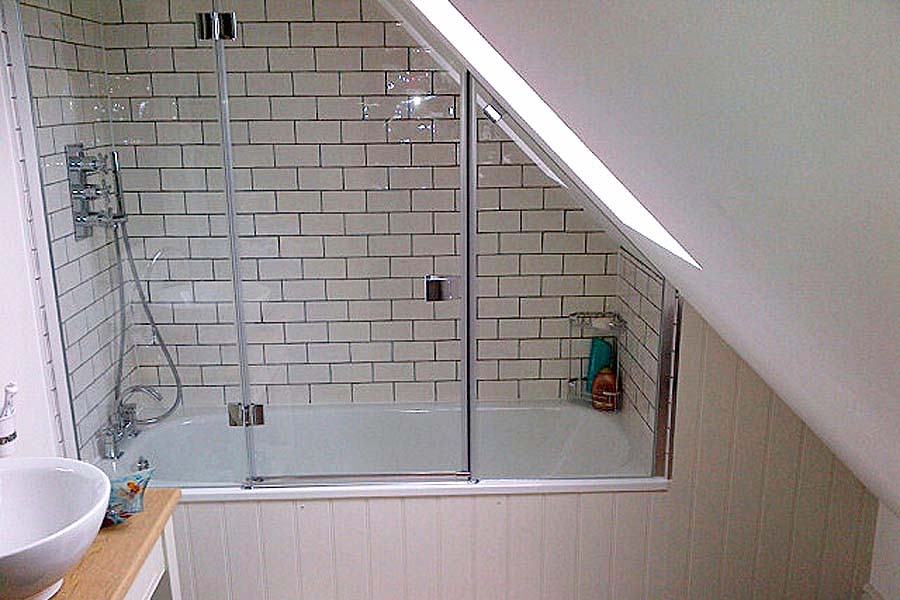 You can create an area of indulgence and luxury by giving a traditional bathroom a contemporary twist, or by adding some period features to a modern theme. Tiles, fixtures, shower screens and flooring all play an integral part in the bathroom design. Porcelain tiles are a classic and stunning addition to both floors and walls. Our range of bathroom tiles includes mosaic tiles, marble tiles and wood look tiles, so you'll find the perfect way to transform any bathroom into a stylish haven of relaxation.
Using large porcelain tiles will help to maximise the sense of space in your over-bath shower. And our fantastic range of ultra-thin large porcelain tiles from Porcel-Thin can help you create the illusion of a larger area. These revolutionary tiles are available in an array of highly desirable colours and effects, including patterned, art mural, stone effect and wood effect.
Embrace top bathroom design trends
Natural materials look gorgeous in any size bathroom, and are hugely popular thanks to the Scandinavian 'hygge' concept that's taking the interior design world by storm. We have an outstanding selection of wood look tiles, including the Pattaya collection from Porcel-Thin, for both walls and floors. These exquisite large porcelain tiles boast delightful timber tones from rice white through to dark ebony.
Patterned tiles are highly on trend for a fabulous retro feel, and work effortlessly alongside a statement shower head, chrome fixtures and a glass shower screen to create a chic, modern feel. Black and white is a highly sought after bathroom design theme, and we have a wonderful selection of monochrome porcelain tiles, perfect for classic, rustic or contemporary settings.
Statement-making bathroom tiles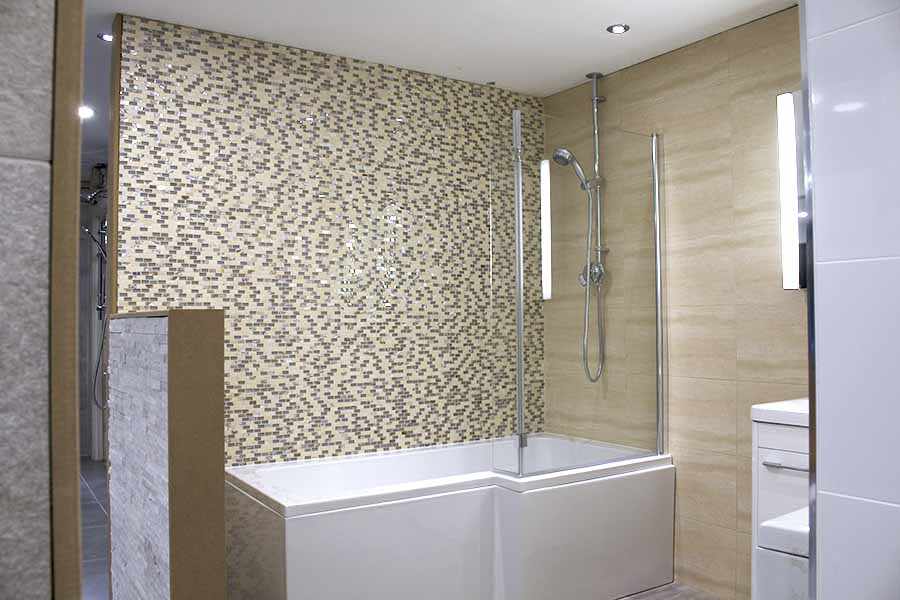 Mosaic tiles create a real wow factor in any bathroom design. Go bold with magnificent colours from our Lagos collection – from bright red, through purple to lime green – or opt for more subtle combinations of grey, silver, blue and brown ceramic, natural stone and glass mosaics. Jewel tones are another must-have, with shimmering tones of metallic, quartz and opal adding sparkle to your bathroom design. Planet Gold Circle and Cosmos Grey and Black mosaic tiles will make your bathroom dazzle, while our Galaxy Black porcelain floor and wall tiles will give it fabulous depth.
For the epitome of luxury, you can't beat marble tiles. And our porcelain marble tiles offer all the undeniable charm of this exquisite material, with extreme practicality too. Our superlative selection of marble-effect porcelain tiles can instantly transform any bathroom – from the earthy tones of Bardiglio from Porcel-Thin, to the beautiful swirling veins of Silk Silver.
Make a feature of your fixtures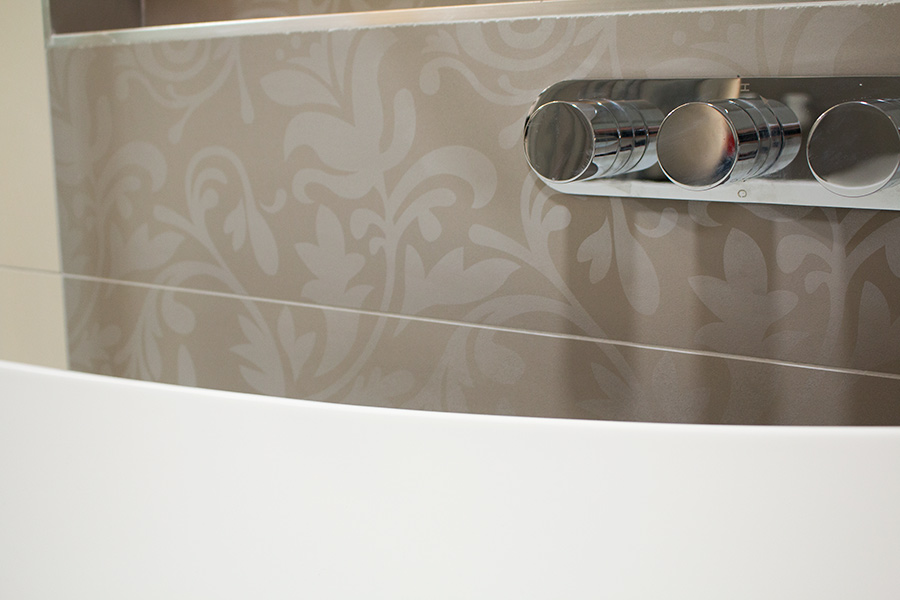 Think of the effect of your shower installation – you could tuck your over-bath shower away in the corner for a subtle approach, or make it a feature piece by using a large shower head and statement taps. Utilise the space you have available cleverly. Perhaps mount shower taps on a different wall to the shower itself, for less clutter.
You could use a shower screen instead of a curtain, whether a frosted screen for understated privacy or something more dynamic, like a folding, sliding or curved shower screen. You could go bold with a printed or patterned shower curtain as a focal point for the room, and utilise this to tuck your shower behind, so it's not on show.
Exposed pipework can add a great shabby chic effect to bathroom design, and even waterproof tile grout doesn't need to be boring – jazz things up a bit with the Kerakoll Fuga tile glitter grout for a shimmering touch of silver or gold.
So, if you thought an over-bath shower meant you'd have to settle for practicality over style – think again! Visit our showroom in Wareham, Dorset for more inspirational bathroom design ideas, and to see our full range of bathroom tiles.