Kerakoll's new eco-friendly tile grout available from UK Tiles Direct
As the official agent in Dorset for the Kerakoll range of tile grout, adhesives and floor preparation products, we're delighted to introduce their Fugalite Bio tile grouts.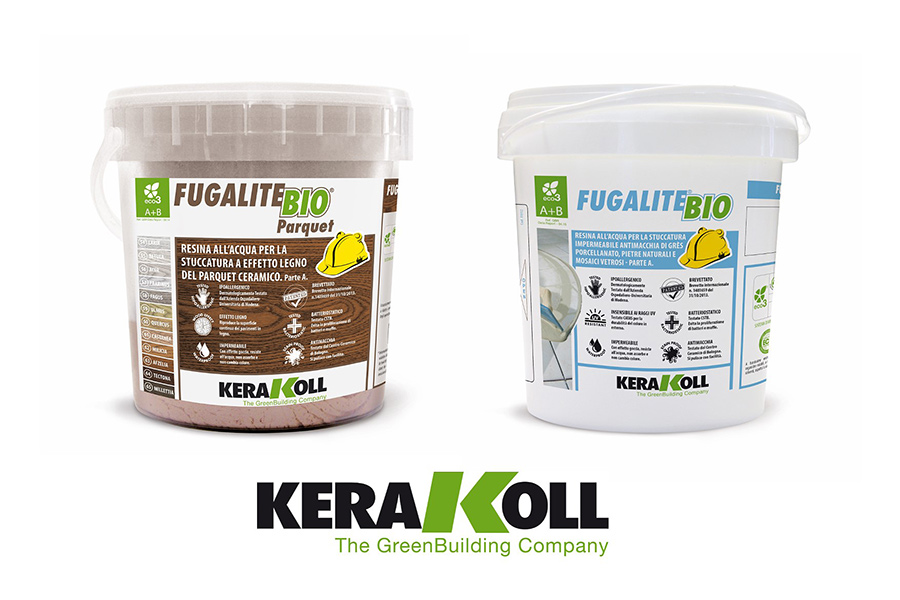 The Fugalite Bio grouts from Kerakoll offer exceptional environmentally friendly qualities, as well as being highly versatile and low maintenance. In a range of fabulous colours, these tile grouts create a wonderful seamless finish, making them an excellent choice for any tiling project, whether wall tiles or floor tiles, for a variety of materials.
Environmentally friendly tile grout
Kerakoll's Fugalite Bio Liquid Tile Grout and Bio Parquet Tile Grout are both extremely kind to the planet. As Eco 3 rated mineral-based products, both these tile grouts can be recycled at the end of their life. Exclusive to Kerakoll, these eco tile grouts are also hypoallergenic – so, not only kind to the environment, but to skin too.
Stain and water resistant for low maintenance
Fugalite Bio tile grout resists everyday dirt and spills, to keep your tiling looking fresh, clean and new, and needing little maintenance. Independently tested by Centro Ceramico Bologna, this eco tile grout is resistant to everything from coffee, oil and red wine, to tomato juice and make up. It's water resistant and non-absorbent too, so perfect for tiling areas prone to high traffic or damp conditions, like hallways, bathrooms, wet rooms and swimming pools.
Colour fast and effective against mould and bacteria
Unlike many other organic eco tile grouts or cement-based tile grouts, Fugalite Bio is CATAS colour-durability tested and won't fade in direct sunlight. And CSTB tests have proven this tile grout provides effective and long lasting protection against mould and bacteria growth. This, again, makes it ideal for use in outside areas and anywhere that has to endure a lot of moisture.
Highly versatile Fugalite Bio Liquid Tile Grout
The Fugalite Bio Liquid Tile Grout offers extreme versatility for any tiling project, whether inside or out. This eco tile grout can be used on floor tiles and wall tiles anywhere around the home. The natural matt silk effect finish offers a seamless blend for porcelain tiles, ceramic tiles, mosaic tiles and stone effect tiles. With 12 colours, covering white to anthracite, through iron grey, walnut, silver and ocean, this tile grout will sit beautifully within any tiling design and effect. From the gorgeous dark mottled effect of our Habitat Graphito ceramic wall tile, and the Pallas Beige stone effect porcelain floor tile, to the stunning Planet Gold Circle mosaic tile, Fugalite Bio Liquid is the perfect choice for your tiling.
Fugalite Bio Parquet Tile Grout for wood effect tiles
Specially formulated to use with wood effect porcelain tiles and parquet tiles, Fugalite Bio Parquet Tile Grout reproduces the continuous surface of wood effect tiling, for a seamless look to your floor. In 12 colours to beautifully match and complement a range of wood effect tiles, it's perfect for using with any colour or design. This tile grout works fabulously with our collection of wood effect tiles, such as the rich dark brown of Forest Natural and the gorgeous whitewashed appearance of Snow Natural, to create a truly stunning floor.
Tiling services from UK Tiles Direct
If you'd like to find out more about our professional tiling services and the Kerakoll Fugalite Bio eco tile grout, please contact us.
To see our extensive collections of porcelain tiles, ceramic tiles, mosaic tiles, wood effect tiles, parquet tiles and stone effect tiles, please visit our bathroom and tile showroom in Wareham, Dorset.