How to Prepare for Tiling a Bathroom
Whether you're thinking of tiling a bathroom yourself, or you've enlisted professional expertise, there are some things you need to think about and preparation work to do, before the tiling can begin.
Here we look at a few of the important things to think about when it comes to tiling a bathroom.
Are you renovating or tiling a bathroom from scratch?
If you're starting your bathroom tiling from scratch, you should make sure baths and shower trays are fitted and plumbed in first. This way, the edges can be hidden by the tiles and be watertight once they're sealed. While it's possible to tile around sanitary ware, it's always best to remove it first so you get a neater finish. It may also be difficult to remove items at a later date if they're tiled in.
Tiling over existing tiles is becoming more common. Partly due to waste reduction and partly to how tedious a task it is to remove floor and wall tiles. However, tiling over your existing bathroom tiles isn't always that easy. For a start, you may not know what your existing tiles are fixed to or fixed with. If you have lightweight tiles on a painted surface, with a poor adhesive, it might not cope with the added weight – no matter how good the tile adhesive is that you're using.
What's the best material for your bathroom tiles?
From porcelain to ceramic, from natural stone to stone effect tiles, there is a world of possibility for creating the style you want when tiling a bathroom. But it's worth looking at the merits of each material and their suitability too, not just how they look.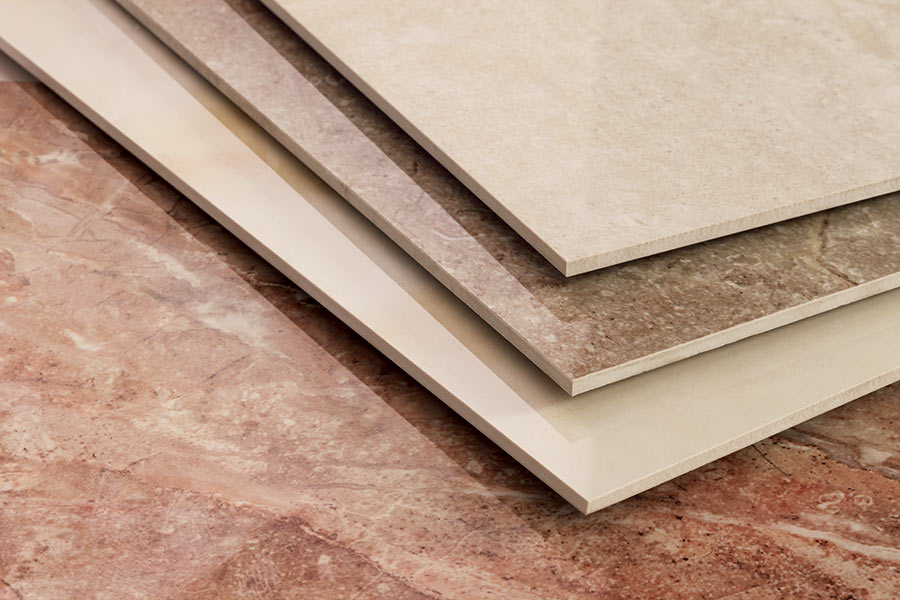 Ceramic tiles and porcelain tiles are very similar in look and feel, with porcelain being denser and tougher and ceramic lighter and easier to cut. Porcelain tiles are extremely durable, and able to withstand the wear and tear of a busy bathroom. We have an extensive selection of stunning porcelain tiles, in an array of styles, colours, finishes, patterns and effects, including the revolutionary large-format, ultra-thin tiles from Porcel-Thin. From subtle earthy tones to deep, black, shimmering metallics, with mosaics and wood effects in between, our range of porcelain tiles offers something for every style and taste. Our ceramic tile collection boasts glorious colours, plain and patterned finishes, and a variety of sizes, perfect for any bathroom tiling project – whether walls or floors.
Natural stone tiles are unrivalled in their beauty, whether marble, slate, granite, travertine or limestone. Our wonderful collection of natural stone tiles offers glorious tones and finishes to create gorgeous bathroom walls and floors. It's worth noting that natural stone will have to be re-sealed now and then, but with the right looking after it can last a lifetime. An alternative, with less maintenance, is stone effect tiles. With exceptionally realistic qualities, down to the intricate detailing and beautiful textures, our stone effect tiles are indistinguishable from the real thing. Whether ceramic or porcelain, stone effect tiles offer the magnificence of natural stone, in a more cost-effective tile that's easier to look after.
Why do you need tile trims and what's the best kind?
Tile trims are used to finish the edges around your bathroom tiles, for a cleaner, tidier look. They can also help to protect the edges of tiles from cracking and other damage. When choosing your tile trims, the main thing to consider is the aesthetics, so go for one that really suits your bathroom tiles.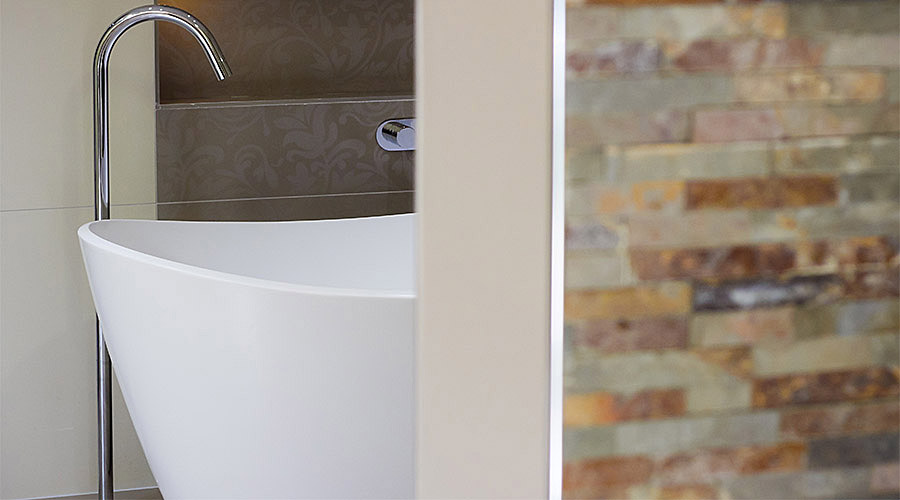 At UK Tiles Direct we have a wide selection of metal and plastic tile trims, in polished, brushed and coloured finishes, with styles and shapes to perfectly complement any bathroom tile and any design theme.
How do you choose the right tile adhesives?
If you're tiling over existing tiles, it's best to avoid ready mixed tile adhesives, because the water content needs to evaporate for the adhesive to dry. With a tiled background, there's nowhere for that water to go except through the grout lines, so a cement-based powder adhesive is advisable.
For fixing any type of ceramic, porcelain, mosaic, glass, natural stone and large-format, thin porcelain tiles, the Kerakoll range of tile adhesives is perfect for both DIY and professional bathroom tiling projects. Including rapid setting, flexible and waterproof tile adhesives, all are specially formulated to withstand the wet conditions of bathrooms and wetrooms. All of the Kerakoll products are extremely eco-friendly, with a high percentage of inert material, which means they are not only kind to the environment, but can be safely recycled too. As official agents in Dorset for Kerakoll, we can supply high-quality tile adhesives suitable for every kind of bathroom tiles.
Will you use tile grouts to contrast or complement your bathroom tiles?
Your choice of tile grout depends on the impression you want to make. You can use the same coloured grout as your tiles, use a contrasting colour to add definition to your tiles, or make a statement with bold, bright colours. The Kerakoll range of mineral-based tile grouts includes flexible and waterproof products, specially developed for various kinds of bathroom tiles, in an array of stunning colours and finishes – there's even gold and silver glitter grout additive for a real wow factor!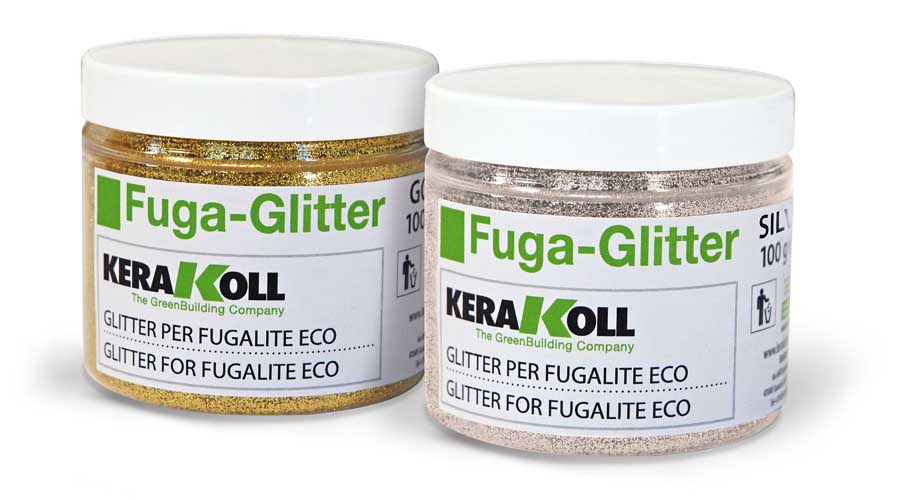 What are the best tile sealants to use?
Silicone is the best tile sealant to use around baths and shower trays, as it allows for slight movement, expansion and contraction. Design-wise, it's best to match the colour of your silicone to the tile, so it blends in nicely. For ceramic and porcelain tiles, Kerakoll Fugabella Eco Silicone Sealant is ideal. An anti-mould organic sealant, it offers a high level of elasticity, is solvent free and available in an amazing 28 different colours, including clear, white, beige, terracotta, silver, grey, coffee, red and yellow, to name just a few. The Fugabella AM Silicone Sealant from Kerakoll is an eco-friendly anti-mould tile sealant, perfect for natural stone and marble tiles, which is available in six colours, including white, iron grey and Bahama Beige.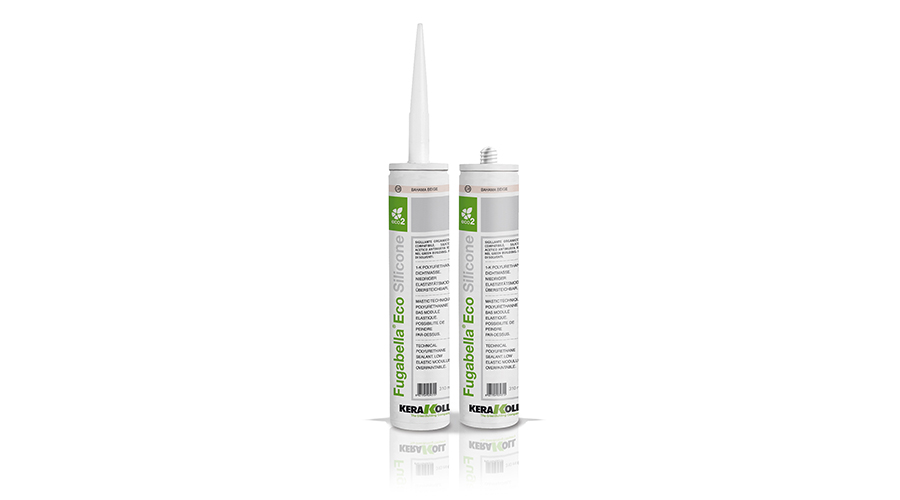 How do you prepare walls and floors for bathroom tile installation?
Getting your walls or floor perfect is important before you start tiling a bathroom. Time spent preparing your surfaces will ensure the tiles adhere properly and lie completely flat. So, make sure there's no loose plaster or old wallpaper on walls and no dirt or dust either. Brush or vacuum your walls and floor, then wipe with a damp sponge and allow to dry thoroughly. You also need to make sure the surface is as level as possible. Then you need to prime your walls, and spread adhesive evenly over the surface with a notched trowel. If you're using non-porous tiles, like porcelain or some natural stone, you should also lightly skim the back of the tiles with adhesive to make sure they grip strongly. If you're tiling over existing bathroom tiles, make sure they're free of any traces of cleaning products before you apply the tile adhesive.
To see our extensive collections of bathroom tiles, tile sealants, grouts and adhesives, please visit our bathroom and tile showroom in Wareham, Dorset.